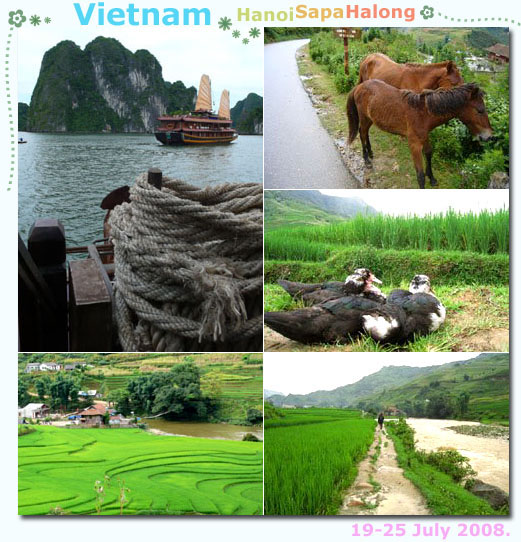 Destinations: Hanoi, Sapa, Halong Bay
Flight: AirAsia AK760(19 Jul, 0630) - AK761 (25 Jul, 0920)
Budget: RM1350 (Air ticket RM342, Food, Accommodation, Transportation, etc)
Style: Backpacked (7D6N)
Weather: Hot & Humid (Summer)
Currency: 1000VND = RM0.22 | 1USD = RM3.25
Me, ChaiLan, ChewJoo, HuiYing, PeiChi & Shazrina traveled to Hanoi by AirAsia.
We had booked Sapa & Halong Bay tour packages from South Pacific Travel before arriving.
We stayed at Hanoi Orchid Hotel for 2 nights while visiting Hanoi city.
Then we took the night train from Hanoi Train Station to Lao Cai Train Station (8 hours) to Sapa.
We met Duong (Sapa tour guide) to bring us to Tavan home stay for 1 night.
After spending 3N2D in Sapa, we were back to Hanoi to catch another tour - Halong Bay(2D1N).
We took the superior package of staying overnight in Halong Phoenix Cruiser.
Photo Gallery from my Picasa: Visit Now